The role of development finance institutions like CDC
Like other Development Finance Institutions (DFIs), we aim to increase capital flows to underdeveloped markets so countries can finance their own way out of poverty. DFIs focus on less-developed or fragile markets and on sectors most important for economic growth.
This focus means DFIs typically take more risks than commercial investors. These can include market risks such as regulatory or political uncertainty, and other risks related to the businesses themselves, such as unproven strategies or inexperienced management teams. However, DFIs are specialist investors, skilled at assessing and mitigating those risks. We often invest for longer periods – a decade or more – and focus on selecting the right management teams and raising environmental, social, and governance standards.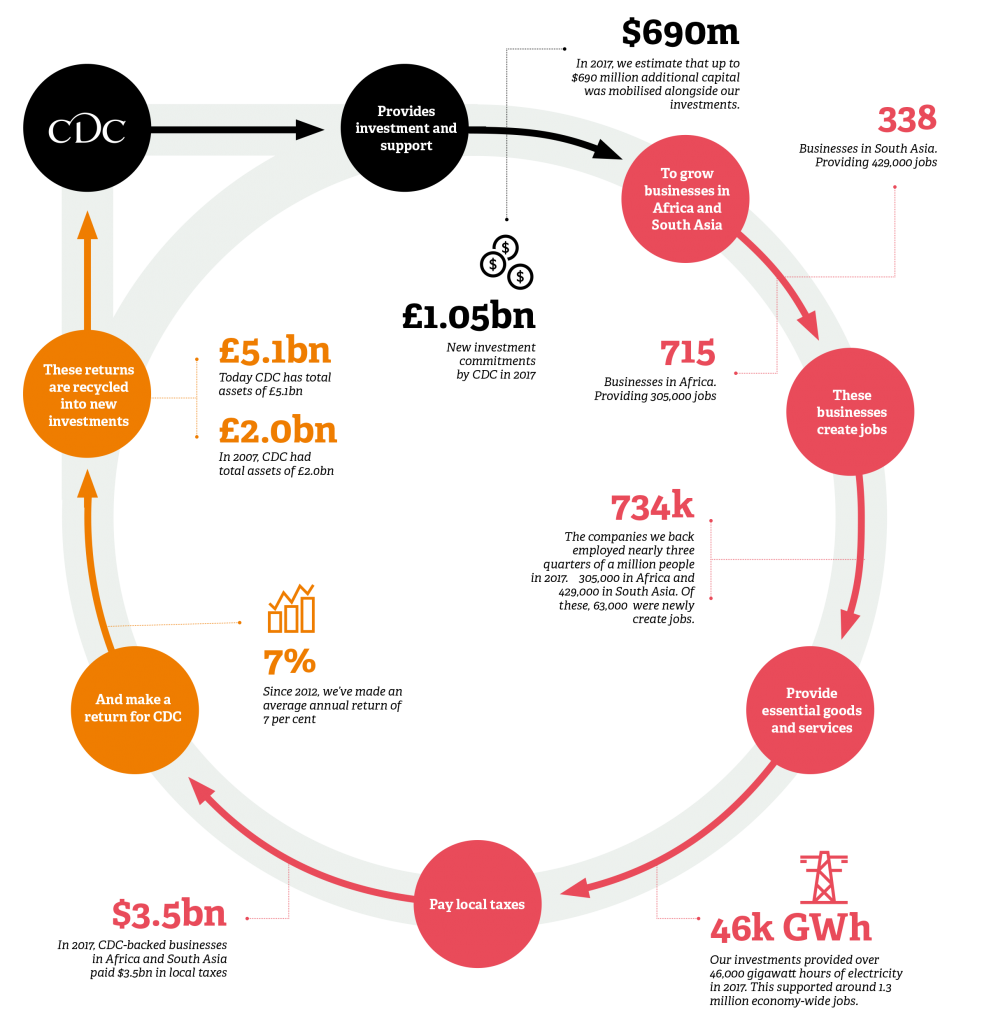 Our approach to impact
The impact we aim to achieve
Our investments lead to a broad range of developmental impact, which has a transformative effect on sectors and countries' economies. Job creation remains our primary strategic focus, as it is the main route out of poverty. However, we contribute to the achievement of many of the UN Global Goals that lead to the elimination of poverty (Goal 1).
Our strategic focus on jobs prioritises Global Goal 8 on decent work and economic growth. Our broader impact includes helping remove market constraints in energy and infrastructure (Goals 7 and 9) and improving access to essential goods and services, such as health and education (Goals 3 and 4). We can accomplish this both directly and through tax contributions. We also mobilise additional sources of capital from partners because this is key to increasing the funding available to achieve the Goals (Goal 17). Over the next five years we have committed to supporting women's economic empowerment (Goal 5) and combatting climate change (Goal 13).
Understanding our impact
Choosing the right investments
We have created a screening tool that helps us choose the right investments that will have the greatest development impact. The tool prioritises investments in the most job-creating sectors and into the poorest countries and states. The methodology was designed with the help of our shareholders, academics, and economists. It is embedded in our investment processes and we use it to assess every investment opportunity for its potential to create impact.
Tracking progress
We monitor the impact we have at three levels:
At the portfolio level: we show annually how many jobs our portfolio created, both directly and indirectly, using a market-leading methodology developed for us by industry experts. We also publish the taxes contributed to local exchequers and how much third-party capital we mobilise.
At a sector and thematic level: we collect and publish annual aggregate data for certain metrics in each sector. We also monitor and report selected job quality, gender, and climate change indicators.
At individual investment level: for each investment or fund commitment, we define the impact we want to achieve and then track our progress towards this intended impact. We use the metrics that help us best understand if we are achieving our ambition.
Evaluation
We also commission and publish independent evaluations to better understand important themes in our work. These bolster our knowledge, guide our future investment strategies, and contribute to the wider understanding of the development finance community.
You can find more details on our planned evaluations here.