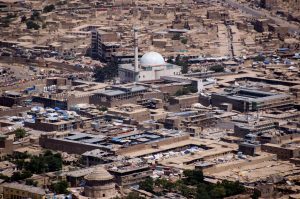 Conflict-affected countries like Afghanistan (pictured) need invest to achieve the UN Global Goals.
Over the next decade, a billion more young people will enter the job market, mainly in Asia and Africa, and it is estimated that an additional $2.5 trillion of investment is needed every year to achieve the UN Global Goals. But the countries and regions that need this investment most are often some of the most challenging places to do business – for example, fragile and conflict-affected states.
To help address these issues, we're supporting Business Fights Poverty as it explores how to unlock the private sector investment needed to deliver the Global Goals in countries that are typically listed towards the bottom of the World Bank's Ease of Doing Business rating. In places like Afghanistan (listed 183 out of 190) and the Democratic Republic of Congo (184 out of 190).
Over the coming months, we are joining other development finance institutions, governments, civil society and businesses in working with Business Fights Poverty to contribute to its research. Particularly, looking at innovative ways and examples of successful investments in these environments.
The work began with a series of workshops including one held at Said Business School at the University of Oxford on 10 July.
"Achieving the Global Goals by 2030 is a huge challenge. As the UK's development finance institution we can play our part but we also recognise that if the Goals are to be achieved then it is going to require new partnerships and increased engagement from all actors. This Business Fights Poverty challenge aims to be a first step in bringing together different actors to share their knowledge and expertise so that together we can have a greater impact"
said CDC's Stakeholder and Policy Manager, Andrew Palmer, who attended.
Following the event in Oxford, further research, workshops and interviews will be carried out before Business Fights Poverty publishes a full report in on how to unlock private investment for the SDGs, which will be launched at the United Nations General Assembly (UNGA) in September.
Find out more
You can join Business Fights Poverty's Challenge on private investment and the SDGs here
Listen to an interview with CDC's Andrew Palmer here