We invest to make a lasting difference to people's lives, in line with our overall commitment to all the UN's Sustainable Development Goals, beginning with Goal 1 on eliminating poverty. We target a wide range of global issues, and people experience our impact primarily through more and better jobs and opportunities (SDG 8); access to basic goods and services such as food, health, education and power (SDGs 2, 3, 4 and 7); and our action on climate change (SDG 13) and gender equality (SDG 5). We also mobilise additional sources of capital from partners because this is key to increasing the funding available to achieve the Goals (SDG 17).
How we assess the impact of each investment
We've developed a new 'Impact Framework' which aligns with the Impact Management Project's (IMP's) five dimensions of impact (What, Who, How Much, Contribution and Risk). We've added a sixth dimension to our Framework, 'How', to understand the routes through which our investment leads to impact and help us target our impact monitoring and management. As an active impact investor and one of the first adopters of the Operating Principles for Impact Management, this understanding is essential to delivering our impact.
What does that mean for assessing the impact of each investment? For each investment, we use an 'Impact Dashboard' to summarise the impact of an investment against our Impact Framework. These are considered by our Investment Committee as part of every investment decision. Each dashboard describes our assessment of the expected impact of the investment against the IMP's dimensions of impact and links the impact of the investment to the Sustainable Development Goals. They're also underpinned by the respective sector impact framework we've developed for the seven priority sectors we invest in. These sector frameworks align with our overarching Impact Framework, and – tested by rigorous evidence reviews – define the likely routes to impact ('How') and the ultimate impact ('What') that we should seek in each sector.
Across the whole portfolio, we also use our 'Development Impact Grid' as a first-level investment screening tool to help us assess every investment opportunity for its potential to create development impact. The tool prioritises investments in the most job-creating sectors and into the poorest countries and states, and creates a single score for each investment.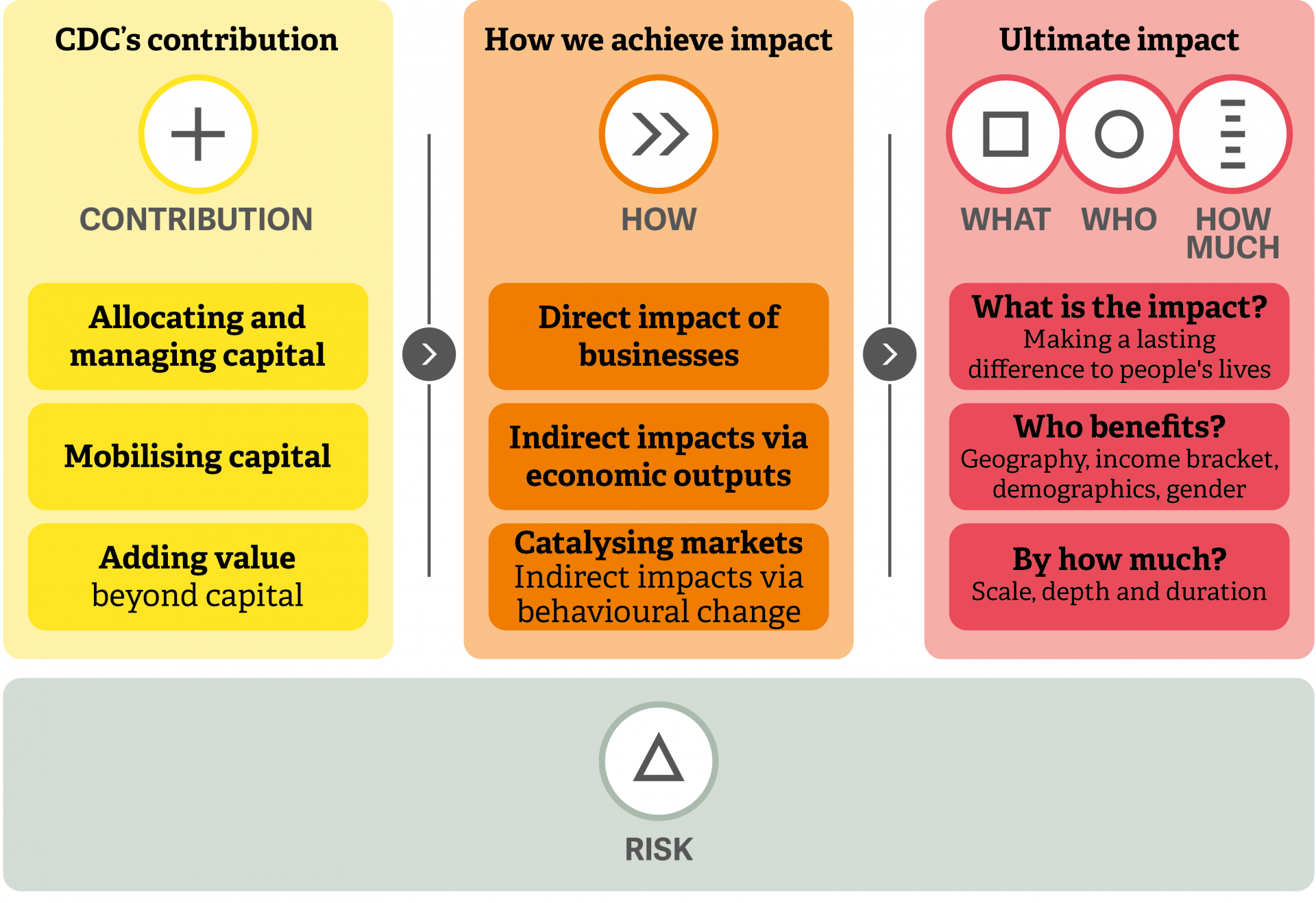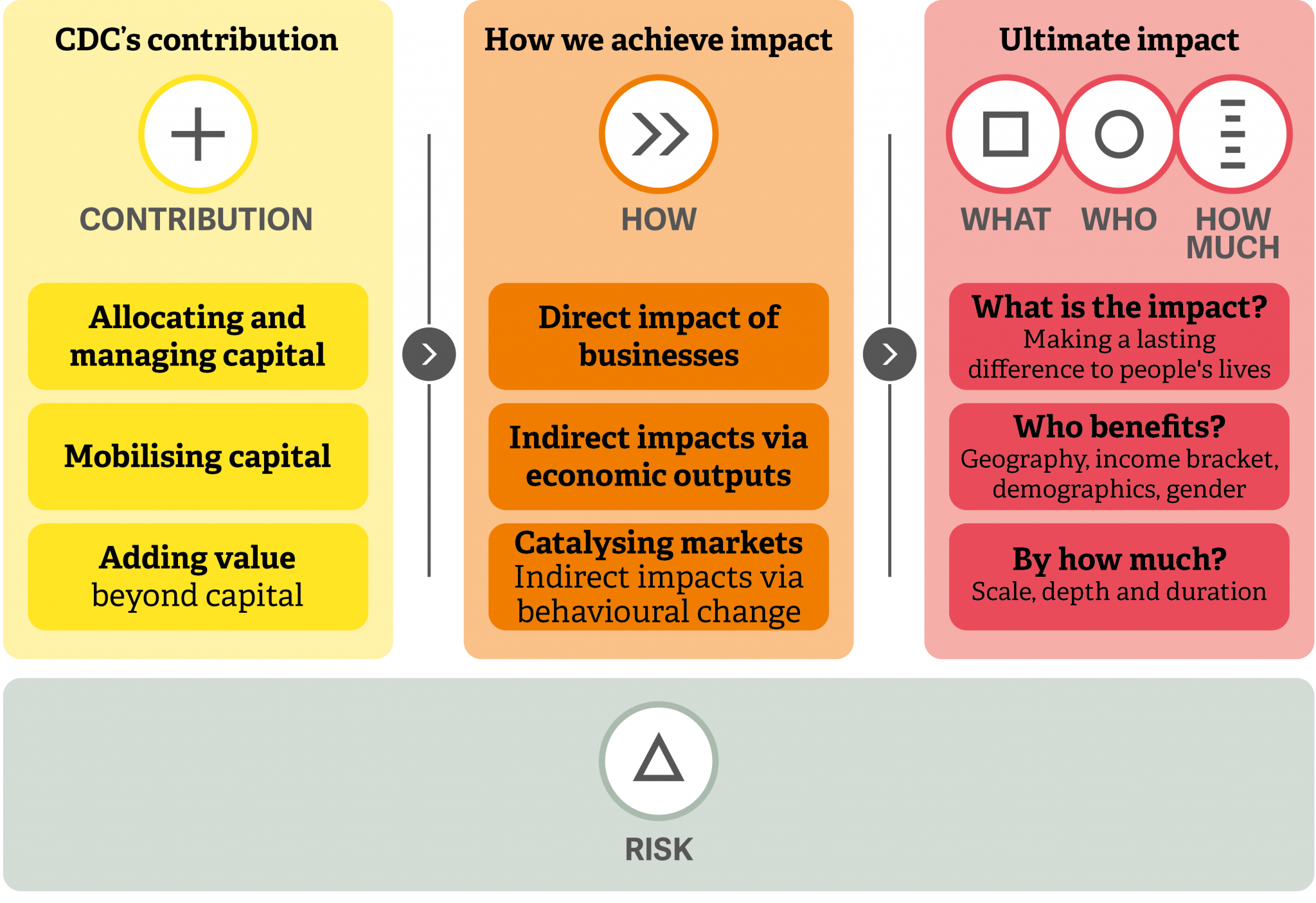 How we monitor and manage impact
We review impact performance in quarterly portfolio review meetings, where we monitor the impact achieved as well as the financial performance of each investment. We also carry out ongoing evaluation of our investee companies, including assessing progress against the initial impact thesis and the potential for adding further value.
We know that building resilient businesses with strong environmental, social and governance practices is core to long-term growth and economic development. We invest responsibly, ensuring that our investees comply with our Code of Responsible Investing, and supporting them to enhance their environmental, social and governance practices.
We are an active investor, looking to add value to maximise the development impact of our portfolio. We can provide additional expertise and resources on a case-by-case basis to help investees increase their commercial performance and development impact, with a focus on our priorities of gender equality, job quality, climate change and skills and leadership. We also manage a technical assistance facility, called CDC Plus, that can be allocated to pipeline and portfolio companies, for projects to add value.
For each investment, we require that our investees report on key monitoring indicators each year. This provides us with a consistent approach to establish and manage our portfolio impact. It includes a range of metrics aligned to our strategic objectives, such as how many jobs our portfolio supported, the local taxes contributed to governments, the amount of third-party capital we mobilise, as well as certain metrics for our priority sectors. We have also signed up to the Task Force on Climate-Related Financial Disclosures and we disclose annually the progress we are making against our Climate Change Strategy by tracking several portfolio climate metrics, for example, our portfolio carbon footprint. These metrics are collected and trends analysed to monitor the overall portfolio impact, and then reported in our Annual Review.
Further information about our approach to impact can be found here.